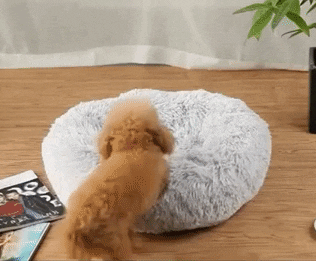 Please ensure you measure your dogs length and match to the inside measurement. If/When in doubt, please order the next size up. The example breed chart is a more accurate estimation because different breeds are built differently when curling or laying down.
EASES ANXIETY: Raised rims that "protect" your pet which has a positive effect on your pet's nervous system calming their sensory behavior and providing comfort when they need it.
DRUG-FREE REMEDY: Natural remedy that reduces stress for separation, Thunderstorms, Fireworks, Travel, Vet visits, loneliness, and reactivity. 
REDUCES VULNERABILITY: Luxurious faux fur that mimics that of their mother's mentally triggers safety and reduces the sense of vulnerability. Reducing stress on their heart and mind, calming and relaxing them. 
EASE PAIN & CORRECTS POSTURE: Raised rims that support your pet's neck and spine for the duration of their sleep bundled with premium soft foam to reduce muscle and joint pain.
STYLISH: No longer an eyesore, our minimalist design, and sophisticated colors ensure our beds blend into the style of your home. 
PET-SAFE: Anti-bacterial faux fur and durable nylon combine to create a comfortable and hygienic place for your pet to sleep.
MACHINE WASHABLE: Wash and dryer friendly to eliminate pet odor and excess hair quickly and easily. Note - Please dry immediately after washing to prevent the fur from matting
HAPPY CHILLIN' BABYCERCLE FAMS!